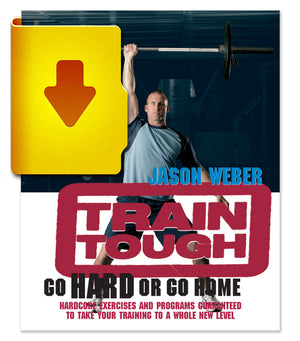 Old Bull Fitness
Train Tough - DIGITAL DOWNLOAD
Sale price Price $27.50 Regular price Unit price / per
After many requests over the years TRAIN TOUGH is now available as a DIGITAL DOWNLOAD.
The file downloads as a non-transferable PDF file which can be read on any operating system.
TRAIN TOUGH is a no-nonsense, straight forward book aimed at getting the beginner moving and keeping the advanced trainer challenged.
Using a training philosophy developed in the cauldron of professional sport, TRAIN TOUGH delivers not just the technical details required to get your program in order, but it also delivers the Mind Set you will need to get the job done.
"You are never given a dream without also being given the power to make it true. You may have to work for it, however."
― Richard Bach
CLICK HERE NOW to download an extract from TRAIN TOUGH
TRAIN TOUGH is packed full of tried-and-tested methods that athletes put into use every day to achieve impressive results.  With a GRADED PROGRAM SYSTEM and all the exercises explained, this is the perfect guide to for everybody from a weekend warrior to a budding young athlete.